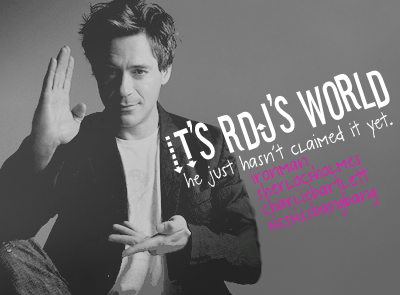 Welcome to RDJ Verse, a challenge community made to celebrate
Robert Downey Jr
through four of his movies:
Kiss Kiss Bang Bang
,
Iron Man
,
Sherlock Holmes
, and
Charlie Bartlett
. This community is largely modeled after
jjverse
, which is loads of fun!! Just to pimp, you should check them out as well, and join Team Rambaldi! Now, without further ado:
How do you play?
You join one of the four teams, based off one of the four movies listed above, and you compete in a series of challenges and contests for points that go to your team! The team with the most points at the end of the phase, wins!
What kind of games?
It will vary from trivia to graphics to writing and even some guessing games!
What are the rules?
We just ask that you have fun! Have fun and encourage the competition!!
NEVER
bash the opposite teams, or one of your own team members. Remember that we're all here because of our love for RDJ!
So how do I join!?
Post a comment with this form so I can designate you a team:
I'm in!! Now what?
ACCEPT the team invite I sent you, and
check out our intro post for new members
.
-- &
UPDATE: Team AP History aka Charlie Bartlett will be sitting this round out! Sorry :(
Team Elementary is full until Narcissism and Fag Hag catches up!
Current Mood:
nervous